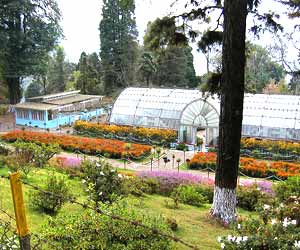 Lloyd's Botanical Garden is a 'one of its kinds' botanical garden in the Darjeeling city of West Bengal. Spread in about 40 acres of land, this botanical garden boasts of housing several endangered and exotic species of fauna. Established in 1878, it was intended to be a distant annexe of the Calcutta Botanical Garden. The basic motive of Lloyd's Botanical Garden is to preserve the native floral species of Darjeeling Himalayan hill region, Sikkim and its neighboring regions. It is also a home to several exotic varieties of flora.
Flora
The numerous varieties of flora in Lloyd's Botanical Garden are a naturalist's delight. Anyone who is in love with nature and greenery is certain to fall in love with this place. Its collection boasts of alpine plants, arum lilies, geraniums, spectacular azaleas, tree ferns and conifers from Europe, apart from hawthorn, blackberry, broom, horse, chestnut, ash, birch and lilac from China and Japan. The cryptomerias, plums, cherries, magnolias and maples weeping willows and deodars from Africa and Bulbon plants and cypress from America are other attractive varieties here.
You can also get to see silver wattle, black wattle, silver oak, blue gum and eucalyptus trees in this botanical garden. The Cacti and Succulents section here is strikingly noticeable, with about 150 species on display. The Orchadium, housing 2500 plants - with 50 rare varieties, is another section in the garden that you must visit. Inside the greenhouse, in this botanical garden, the begonias blooms are arranged in a pleasing manner, like an attractive mosaic of multi-colored splendor. Lloyd's Botanical Garden is a worthwhile experience for those who take interest in botany and are in love with nature.