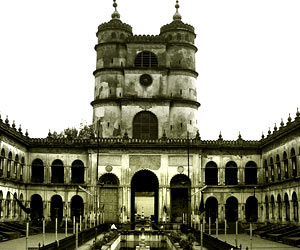 Hooghly, situated on the west bank of Hooghly River, is hardly 40 km from the state capital of Kolkata. The district houses several cities that have a great tourism value. It is also a place of great significance for Bengalis, as it is the birthplace of the eternal Bengali novelist, Sarat Chadra Chatterjee. The place is also given extreme regard as it is the sacred place where Sri Ramakrisna Paramhamsa and his consort, Sarada Devi spent a major part of their life. The rich past, historical legacy and myriad attractions of the district make it important from travel and tourism point of view.
Hooghly is also famous for its liaisons with the French, the Dutch and the Portuguese. The individualistic marks of these foreign cultures still reflect in the culture as well as the architecture of the district. A river port in the fifteenth century, the district was first approached by Portuguese. Gradually, the Dutch, Danish, British, French, Belgians and Germans also came to this place. Dutch traders centered their activities in Chuchura, which is just south to Hooghly, while Chandannagar became the base of the French. On the other hand, the Danish settlers made Srirampur their base.
There are several cities in Hooghly district worth a trip. The city of Chandannagar is famous for its strand and the French architectural style buildings. The city of Tarakeshwar and Bhadreswar are known as sacred pilgrimage spots. Dhaniakhali is famous for its typical Bengali sari, while Dhanekhali. Joyrambati and Kamarpukur cities are known for their liaisons with Sri Ramakrishna and Sarada Devi. While in Hooghly, you must also visit the oldest church of Bengal and Muslim Imambada in Bandel, Sandeswar Temple, Hansweswari Temple and Brindavan Jew temple in Chinsura.
How to Reach Hooghly
One of the major districts of West Bengal, Hooghly has been named after the Hooghly River that flows alongside. Situated at a distance of approximately 40 km from Kolkata, the district enjoys the advantage of being easily accessible from all the parts of the state and the country at large.
Hooghly Tourist Attractions
Hooghly district is situated at a distance of 40 km to the north of Kolkata. It is sited at the west bank of river Hooghly, hence the name. Vasco da Gama, who is known for discovering India, once landed there and the place also served as a port to Moguls and Portuguese. Even the Dutch, Danish, British, French, Belgians and Germans have visited the place, in the past.