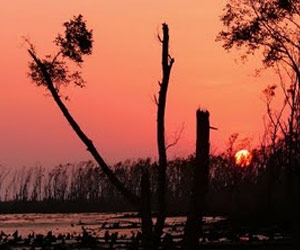 Sunderbans, a mangrove forest spread across areas of Bangladesh and West Bengal, is a very popular tourist destination in the traveler's map. The place derives its name from 'Sundari' (mangrove) trees, which are found in the entire forest cover. UNESCO declared Sunderbans as a World Heritage Site, in 1987. Lying at the feet of River Ganges, Sunderbans is also the largest estuarine delta of the world. The wildlife sanctuary came into existence in 1977, while Sundarbans National Park was established in May 1984. The Park is a safe haven for Royal Bengal Tigers, while the wildlife sanctuary is home to a wide variety of animals, including chital, monkeys, estuarine crocodiles, marine turtle and even dolphins.
Since the flora and fauna of Sunderbans are enriched with wonderful variety of life, travelers, who like to call themselves "nature lovers", throng the forest every year, to spend a relaxing weekend, away from the bustling city life. This is perhaps the reason why Sunderbans has become a hit weekend getaway of West Bengal, when it comes to travelers visiting India. The tranquilizing atmosphere of Sunderbans is well-complemented by picturesque beauty and greenery everywhere. Since the entire forest cover floats on water, it is a wonderful place for indulging in relaxing boat rides.
Sundarbans is chosen as a tourist destination not only because of its scenic beauty, but also due to its pleasant weather. During the peak season, which is from November to March, one can experience a pleasing weather in Sundarbans. Moreover, it is easily approachable, unlike many remote forest covers of India. One can get easy access to Sundarbans, by flying to Kolkata airport, which is 112 km away from the forest. Motor boat facilities are also available from many areas around Sunderbans. Thus, reaching this thick forest cover will be a hassle-free experience. All in all, Sunderbans is a wonderful weekend getaway that should not be missed out, when you are traveling to the eastern part of India.
How to Reach Sunderbans
Sunderbans, literally meaning 'beautiful jungle', is a must-visit weekend getaway of Kolkata, the capital city of West Bengal. The jungle derives its name from Sundari trees, which are found in the forest in large numbers. Sunderbans boasts of being the largest mangrove ecosystem in the world and has been declared as a World Heritage Site by UNESCO, in 1987.
Things to Do in Sunderbans
Sunderbans, a beautiful forest of mangroves, is a very popular tourist destination in the tourist map of India. It has a wildlife sanctuary as well as a national park and boasts for being the largest estuarine delta in the world. Sunderbans is truly a traveler's delight, because it unfolds the unscathed beauty of nature.
Sunderbans Tourist Attractions
Exploring Sunderbans, the largest estuarine delta in the world, can be a highly thrilling experience. With rich flora and fauna, Sunderbans leaves a lasting impression in the tourist's mind, because it unfolds the picturesque beauty of West Bengal and the bordering country Bangladesh, amidst which it is situated. The Royal Bengal Tigers are sheltered here, attracting tourists from all over the country and elsewhere in the world.
Sunderbans Weather
Sunderbans is a very beautiful tourist attraction in India. It is home to a large number of mangroves (fondly called 'Sundari'), from which the name 'Sunderbans' is derived. The forest lies at the feet of the Holy Ganges and is spread across areas of West Bengal and the neighboring country - Bangladesh.