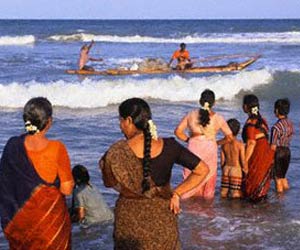 Girdled with casuarinas plantations all along the sun-kissed beaches, Digha surely makes way to be one of the most sought after weekend destination locales in West Bengal. Situated at a distance of about 185 kms from the City of Joy, Kolkata, this small beach town has been rightfully described as the 'Brighton of the East'. The scenic beauty of the beaches, coupled with mesmeric sunrise and captivating sunsets enthralls the visitors completely, giving them an ideal ambience to rejuvenate and restore their parched nerves.
Originally known as Beerkul, during the time of Warren Hastings, Digha was discovered by the British, in the late 18th century. Even today, the hamlet completely baffles the imaginations of an individual with its charismatic exquisiteness and natural splendor. Away from the pandemonium of a city life, Digha acts as a perfect spot for individuals to revitalize and restore the mind, body and soul. The beach town has something to offer for all the age groups. Right from religious temples to romantic beaches and educating museums and research centre, no one can complain of being unsatisfied on their trip to Digha.
Shankarpur, Chandaneswar, Marine Aquarium and Research Centre and New Digha are some of the most important tourist destinations which you should visit while touring this amazing beach town. After you get exhausted from the fun and frolic in the sand, head straight to the local eatery to relish the local Bengali food. Once in Digha, do not forget to try fried fish on the sea front. For shopaholics, Digha can be nothing less than a paradise. Right from ornaments made from shell to curios, hand-woven mats and cashew nuts, the list of things which you can pack along with you is just endless. So, what are you waiting for- just pack your bags and head to this amazing beach town to experience a memorable weekend!!
How to Reach Digha
Digha, the beautiful beach town of West Bengal, is located at a distance of about 185 kms from Kolkata. Originally known as Beerkul, the place is an ideal and popular weekend getaway for the people of West Bengal. While the pleasurable climate acts in favor of this small hamlet, the numerous tourist attraction spots enhance the value of the place.
Things to Do in Digha
popular beach hangout in West Bengal, Digha qualifies as an ideal place to enjoy an exciting vacation in the lap of nature. This picturesque beach town has an exquisite beauty of its own that is unique and matchless. Apart from lazing around the beachside, one can indulge in a lot of fun activities in this small hamlet.
Digha Tourist Attractions
Digha is a one-stop destination for families looking forward to spend a pleasurable weekend. The small beach town provides tourists a warm and fascinating stay. The calm environ of the place, coupled with a blissful ambience proves to be a respite for those boggled down with the chaotic life of big cities. One of the best features of this hamlet is its varied and diverse tourist attraction spots.
Digha Weather
A blissful romantic getaway from the clutter and chaos of city life, Digha is just the place to head for, if you are looking forward to enjoy a quaint and refreshing weekend on a beachside. Located at a distance of about 185 kms from the City of Joy, Kolkata, this small hamlet is an idyllic place boasting of a charming and alluring ambience. Add to this a pleasurable climate and Digha tops the chart when it comes to spending a leisure weekend on the banks of a sea.