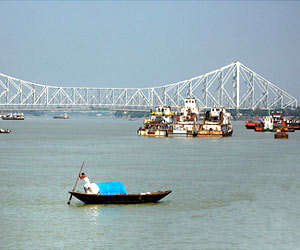 Location
: Over Hooghly River
Type
: Cantilever Bridge
Highlights
: One of the largest cantilever bridges in the world, largest cantilever bridge in India
West Bengal is known for its magnificent architecture. One of the best architectural structures in the state is the Howrah Bridge, which connects the twin cities of Kolkata and Howrah. The bridge is one of the largest cantilever bridges in the world and the largest cantilever bridge in India. It was built to support military transportation during the world war. Today, it stands as a British engineering marvel in India. It was renamed as 'Rabindra Setu' after the famous Nobel Laureate of West Bengal, Mr. Rabindra Nath Tagore, in 1965. However, it is still popularly known as Howrah Bridge, amongst the localites and tourists.
Howrah Bridge was built to replace the Floating Pontoon Bridge, which was built over Hooghly in 1874. The bridge was constructed by the construction company Rendel Palmer & Tritton and Cleveland Bridge & Engineering Co. Ltd, in order to handle the ever-increasing traffic of Kolkata, which had become unmanageable by then. Howrah Bridge took a period of about 6 years to get built, with the construction starting in 1937 and ending by the year 1943, after which the bridge was opened to general public.
Howrah Bridge is 705 meters long and 30 m wide. On an average, it handles the traffic of about 150,000 vehicles and 4,000,000 pedestrians. A few years back, the bridge also handled a tram route, but it is currently being used as a road bridge only. The bridge also has two sister bridges as well, Vidyasagar Setu and Vivekananda Setu, over the same river, at distinct points. It is the sixth longest bridge in the world of its own kind.