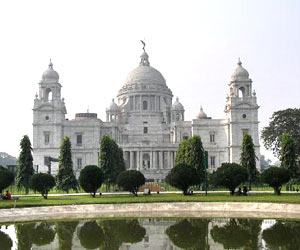 Location:
Maidan, near Jawaharlal Nehru Road, Kolkata
Built in:
1921
Built by:
Lord Curzon, the Viceroy of India
Designed by:
Sir William Emerson
Victoria Memorial is one of the major tourist attractions in Kolkata. Built in 1921, this museum is dedicated to the Queen Victoria of Great Britain. It was conceptualized by Lord Curzon, the then Viceroy of India and designed by the famous architect Sir William Emerson. King George V, the then Prince of Wales, laid the foundation stone of this museum, on January 4, 1906. However, the entire construction took about 15 years and a hefty sum of Rs. 1, 05, 00,000. The museum, today, comprises of the pictures and statues of those great men who have significantly contributed to the nation-building.
Presently, Victoria Memorial is one of the most prominent museums in Kolkata. It officially runs under the Department of Culture, Government of India. A royal, airy, colossal and majestic building, surrounded by an exquisite garden, Victoria Memorial is the largest depository in India, for the illustrative history of Kolkata. The major collections of the museum include ancient western paintings, archives, Mughal miniatures, sculptures, Indian paintings, postage stamps, manuscripts, arms and armors, company school drawings, lithographs and aquatints, rare books and sketches.
Victoria Memorial Hall is open for public visits everyday, except Mondays and public holidays. The timings are 9 am to 5 pm. It attracts lots of Indian and foreign tourists. The entry fee for Indians is only Rs. 10 and for foreigners, the entry fee is Rs. 150. Separate ticket is also available for the garden, in case you do not want to visit the memorial. Entry to the memorial is free to school children up to 12 years of age as well as army personnel in uniform. Special light & sound shows are held here regularly, as a permanent special event.