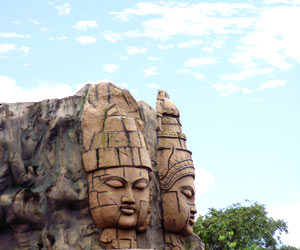 The capital city of West Bengal, Kolkata is indeed a very beautiful place. The entire city is full of several places worth visiting. Apart from religious and festive expeditions, the city also offers the tourists various places of amusement and entertainment. In the past few decades, the enjoyment value of Kolkata has been enhanced by development of several world class amusement centers therein. The city now boasts of having two fun parks and a science exhibitory, amongst others. The amusement parks in Calcutta are not only a fun element for tourists, but also a nice weekend venue for the localites. Let us explore them in detail.
Amusement Parks in Kolkata
Aquatica Water Park
Aquatica in Kolkata is an 8-acre water theme park in Kolkata. It is the largest water park in Kolkata and also one of the largest in India. It presents a mesmerizing experience for those who love to get wet and wild. There are several wonderful rides in this water kingdom, like Black Hole, the Wave Pool, Niagara Falls, Tornado and the Aqua Dance Floor. A free pick and drop from Nicco Park makes this place easily accessible. More
Millennium Park
Millennium Park is another amusement park in Kolkata, situated along the eastern shore of River Hooghly. It is a wonderful park, stretching on for 2.5 km, near Babu Ghat and opposite to Koilaghat. The park is divided into several sections. One of them is exclusive children section, with merry-go-rounds, slides and swings. It has a beautiful landscaped garden as well, with proper sitting arrangements. The park also houses wonderful hut houses and food complex. More
Science City
The Science City in Kolkata is a wonderful place for every body, young or old, to have fun and education together. Based on the concept of providing awe-inspiring experiences of various scientific applications, to the visitors, this wonderful place has been divided into a number of sections, like Space Odyssey, Dynamotion, Life Science Corners, Science Park, Toy Train Ropeway and the Dinosaurs Complex. More
Nicco Park
Nicco Park is amongst the most famous amusement parks in Kolkata. Spread over an area of about 40 acres, this place is the favorite weekend spot for the localites and presents a wonderful experience for the tourists as well. This place has wonderful joy rides, where people of all age groups come together and enjoy. Popularly called Jheel Meel and the Disneyland of Kolkata, this place also has a beautiful rose garden and a large food park.