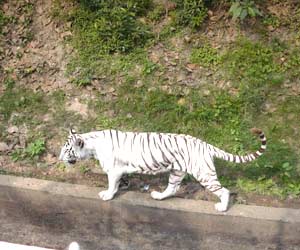 Location:
Belvedre Road, Kolkata
Inaugurated in:
1876
Inaugurated by:
Prince of Wales
Spread over:
100 acres
Highlights:
One of the oldest zoological gardens in India
The Zoological Garden of Kolkata, popularly known as Calcutta Zoo or Alipore Zoo, is one of the major tourist attractions in the city. It boasts of having several indigenous and exotic varieties of animals within its premises. It was established in 1875, after the initiatives of then Governor Richard Temple, followed by Sir C.L. Lendal. Inaugurated by the Prince of Wales in 1876, it is also one of the oldest zoological gardens in India. Spread over an area of 100 acres, in the heart of Calcutta, Zoological Garden is a popular tourist attarction.
The major attractions of Alipore Zoological Gardens are Royal Bengal Tiger, African Lion, Jaguar, Hippopotamus, Great Indian One-horned Rhinoceros, Reticulated Giraffe, Grant's Zebra, Dromedary Camel, Indian Elephant, Tigons (cross between lion and tiger) and Litigon (cross between a lion and a tigon). Birds like Macaw, Golden Pheasant, Cassowary, Ostrich, Touracos, Lady Amherst's Pheasant, Emu and Hornbills can also be seen here. This zoo is also famous for being the home to the 250 year old Aldabra Giant Tortoise "Adwaita".
The Zoological Garden of Calcutta also comprises of a Reptile House, a Primate House, an Elephant House, and a Panther House. There is also a separate Children's Zoo in the garden. Then, there are central water bodies at the zoo, which attract migratory birds. In winters, the scenario becomes more attractive, with these colorful birds in and around the zoo. The zoo, located on the Belvedre Road, is open to all and the visiting timings are from 9 a.m. to 5 p.m. The entry fee is nominal, only Rs. 10.