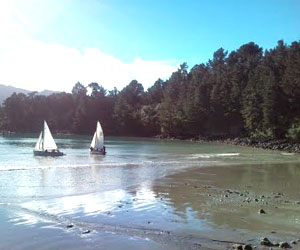 Location:
Southern suburbs of Kolkata, South 24 Parganas district
Highlights:
One of the prominent sea entry gates to India
Near the suburbs of Kolkata, there are several beautiful excursions that are worth a leisure trip. One of them is the famous Diamond Harbor. Located near the delta region of the city, the harbor is an attractive place, very different from the crowded city that is full of multiplexes and malls. It is the best place for those who love naturally mesmerizing beauty and pristine charm of the serene atmosphere. Earlier known as Hajipur, this place is actually situated at the junction where River Ganges takes a south turn to meet with the sea.
Diamond Harbor, now famous for its attractive tourism avenues, was earlier prone to Portuguese pirates. This is because its strategic location made it an entry gate for the foreigners. The remains of the fort of Chingrikhali, associated with these pirates, still stand as the live evidence of the link-ups of pirates with this area. This fort is, however, also linked with the efforts of British to gain foothold in India. Whatever be the fact, what becomes evident from these facts is that Diamond Harbor has served as the prominent sea entry gate to India.
Located approximately 50 km from Kolkata, Diamond Harbor is the best option if you are looking for picnic trip or a single day outing away from the city. Its tranquil atmosphere, along with enchanting beaches, is certainly rejuvenating. The place is also well connected to beautiful sites like Gangasagar, Bakkhali and Kakdwip. The Sarisha Ramkrishna Ashram is also one major highlight of the place. However, the best that Diamond Harbor offers you is its exquisite River cruises. A journey through these river cruises will help you wind yourself and let you relax and enjoy the water in your own way.