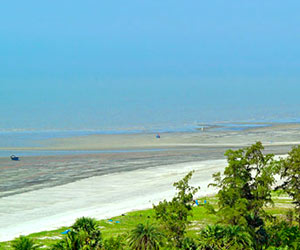 Location:
150 km from Kolkata
Highlights:
Unspoilt rustic charm, Gangasagar Mela
Kolkata offers you several wonderful excursions. One of the most popular amongst them is the Sagar Island, or Gangasagar, located approximately 150 km from Kolkata. It is an extremely charming tourist destination, which boats ofan unspoilt rustic charm. As an unhampered beach, on the estuary of the river Ganges, it offers you an enchanting view of silver sand and clear blue sky, along with easy going and tranquil sea by the side. It is the perfect destination for every kind of tourists.
Sagar Island is not only meant for fun and nature lovers, looking for a leisure trip. It is also equally popular amongst pilgrims and religious souls. Other than the rustic charm of nature it offers, this island is also the holy confluence point of river Ganga and the Bay of Bengal. The place is, thus, also considered to be sanctified. The ritual of taking a dip in this water on Makar Sankranti is considered auspicious. The place is also famous for the Kapil Muni temple near the beach, where people worship after taking a holy dip in the river.
Those tourists who are looking for an exquisite and exotic holiday can also head towards Sagar Island. The silver sand and the golden glittering sun rays make this place look like a virtual paradise at the dawn and dusk. Apart from this, the natural aura and clean atmosphere provides great refreshment, away from the crowded and polluted cities near by. October to April is the best time to visit this place. Sagardwip also witnesses one of the biggest fairs in West Bengal, called Gangasagar Mela, in January.