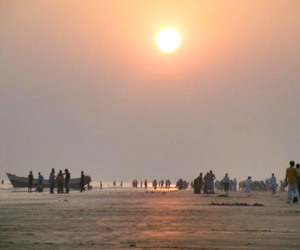 Location:
187 km from Kolkata
Highlights:
Quiet and unruffled beauty
The excursions of Kolkata include beautiful beaches. One of the most beautiful amongst them is the Digha Beach. About 187 km from the city of Kolkata, this place is the most popular sea resort of West Bengal. The place was referred as the 'Brighton of the East' by Warren Hastings, the first Governor-General of Bengal, due to its mesmerizing beauty. Originally known as Beerkul, it is a place with serene and tranquil atmosphere, accompanied with rustic charm and undiluted air.
The calm and soothing sea by the Digha Beach fascinates all the tourists. An English tourist named John Frank Smith was so mesmerized by the beauty of the place that he remained here for his entire life. It was his writing efforts that enabled Digha's beauty to gain exposure. Mr. Smith, after independence, made immense efforts to convince West Bengal's first chief minister Dr. B C Roy to develop Digha as a beach resort.
A typical eastern coastal beach, Digha is a hard beach where one can drive during low tide. For about a mile, the sea from Digha is calm and shallow, making it quite safe for swimming. One can also have a wonderful view of both sunrise and sunset from the beach. As Digha's old beach is facing the problem of sea erosion, a new beach has been developed about 2 km away from the old one. The new beach is more organized and cleaner than the older one.
The other interesting places around Digha Beach include Shankarpur Fishing Harbour Project, about 14 km away. Other places of interest nearby include Chandraeshwara Temple and Junput. Being one of the most popular tourist spots near Kolkata, the place is full of umpteen hotels and resorts. A trip to Digha Beach between July and March is favorable. This place will be loved by all those people who want to spend a relaxed and unwinding holiday in the lap of nature.