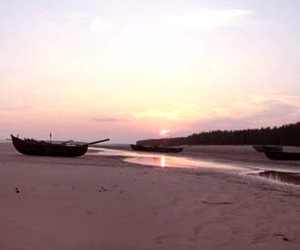 The city of Kolkata offers you lots of excursion opportunities. Not only does it provides you wonderful raw hills, but also offers you opportunities to explore exotic beaches and wonderful deltas in the vicinity. Apart from exotic natural excursions, there are so many historic places in the vicinity that it would really become difficult for you, as a tourist, to choose between these options. A few of the popular tourist places near Kolkata have been listed below. Go through them and pick the ones that you want to include in this visit.
Excursions from Kolkata
Sunderban National Park
Once you have entered West Bengal, the opportunity for several kinds of expeditions opens in front of you. If you are bored of cities, sky-scrapers and malls and looking for something very natural and rustic, the vast tract of forests and salt water swamp of Sundarbans would be the perfect destination. It is actually a swampy forest area, forming the lower part of the Ganges Delta.
Santiniketan
Santiniketan is a small town located in the Birbhum district of West Bengal. The place should be included in your must-visit list of the excursions around Kolkata. Apart from being known for its soothing atmosphere, the place is also renwoned for the Visva-Bharati University, which was established by the great noble laureate Rabindra Nath Tagore. More
Frazerganj Beach
Frazerganj beach is well known for its whitish silver sand. This place is loved by all those people who are looking for a serene getaway from Kolkata. s this place is not much exploited, it is pristine and holds the charms of an unspoilt arena of joy and daintiness. More
Ajodhya Hills
Ayodhya Hills are a part of the Dolma Hill Range, siatuted near Kolkata. They are basically raw forests that are meant for nature lovers and young mountaineers. The entire place is covered with dense forests. The guggling waterfalls of the place make it a natural delight. More
Bankura
Bankura is a wonderful destination for all those who are looking for a trip to explore the archaeology, history, culture and crafts of West Bengal. The places for where you can plan a trip in Bankura are Susunia Hills, Biharinath Hill and Jhilimili. Bankura is extremely famous for its terracotta horses as well. More
Diamond Harbor
Diamond harbor is located about 50 km from the city of Kolkata. It is a wonderful place, if you are planning for a picnic trip or a single day outing away from the city life. The tranquil atmosphere of the harbor, along with the enchanting beauty of the place, will surely woo your heart. More
Digha Beach
Digha, located about 187 kms from the city of Kolkata, is the most popular sea resort of West Bengal. It is a typical eastern coastal beach, which makes a wonderful vantage point for sunrise and sunset views. It is a hard beach, where one can drive during low tide. More
Sagar Island
Sagar Island, popularly known as Gangasagar, is a wonderful island located on the holy confluence point of river Ganga and the Bay of Bengal. It is a beautiful, serene island, loved by all the people who want to have a peaceful holiday. It is also considered a sanctified site meant for pilgrims and religious souls. More
Gaur
About 40 km from Rajmahal, on the western bank of Ganges, lays Gaur. It is a city of ruins, sitauted in the Malda district of West Bengal. The city, though now merely reduced to ruins, has some ancient architecture that is still worth a visit. Once a city of glory and the capital of Muslim dynasty, Gaur is now visited only for the historical remains of those glorious days.