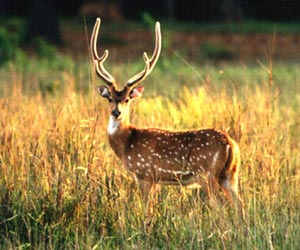 Location:
Hooghly River Estuary (India) to Meghna River Estuary (Bangladesh)
Area:
160 miles
Once you have entered West Bengal, the opportunity for several kinds of expeditions opens in front of you. If you are bored of cities, sky-scrapers and malls and looking for something very natural and rustic, the vast tract of forests and salt water swamp of Sundarbans would be the perfect destination. Actually a swampy forest area forming the lower part of the Ganges Delta, the national park is spread over 160 miles, along the Bay of Bengal, from Hooghly River Estuary in India to Meghna River Estuary in Bangladesh. Sunderbans is one place where your search for something natural and exciting will end.
Located to the south of Kolkata, Sunderban National Park is one of the most distinctive bionetworks of the world. In India, the Sunderbans covers a total area of 4262 sq. kms. It is also being used as the site of Bengal tiger preservation project. It is now the place with maximum numbers of tigers in the world. The tiger project started in year 1974 and covers an area of 2585 sq. kms on the delta. The core area of 1330 sq. kms in Sunderban has been declared UNESCO world heritage site.
Named after Sundari, the dominating mangrove trees in the region, Sunderban Tiger Reserve is full of numerous wild animals. You can also get to see several crocodile-infested estuaries here. It is basically renowned for being world's largest delta. It is formed by the Ganges, Brahmaputra and Meghna River. Spread over 54 islands, it entertains a network of estuaries, tidal rivers, and creeks confluence by various channels. It is accessible only through riverine routes. Prearranged boat tours from Port Canning take you to the forests of Sunderbans.