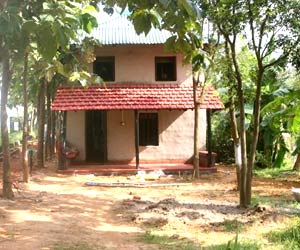 Location:
Birbhum district (180 km from Kolkata)
Highlights:
Abode of Nobel Laureate, Rabindranath Tagore
Flaunting a rustic backdrop and aromatic ambience, Santiniketan is a world-renowned town situated near Bolpur, in the Birbhum district of West Bengal. About 180 kms from Kolkata, the place was once the abode of Nobel Laureate, Rabindranath Tagore. It was, here, that Tagore scripted most of his literary classics, thus enriching Bengali literature and music and taking them to a new level. While his house is a place of historical importance today, the school which he expanded to a university is internationally famous. A vision that transformed to become a university of the recent times, Visva-Bharati University remains to be the crucial and significant part of Santiniketan.
Glorious Past & Visva-Bharati University
Formerly named Bhubandanga (after the local dacoit Bhuban Dakat), Shantiniketan was owned by the Tagore family. It was Maharshi Debendranath Tagore (Rabindranath Tagore's father) who christened the place as 'Santiniketan' or the abode (niketan) of peace (shanti), as the place extended a blissful and idyllic existence. Young Rabindranath Tagore gained his education at Patha Bhavana, a school which formed his ideals, philosophy and the base of his values and beliefs.
Upon gaining the Nobel Peace Prize in 1913, Rabindranath Tagore expanded the institution from a small school to Visva-Bharati University. Established in 1921, the university became one of the central universities of India by 1951. Right from Indira Gandhi, Satyajit Ray and Abdul Ghani Khan to Jahar Dasgupta and Nobel Laureate Amartya Sen, some of the most illustrious students have passed from this university. Kala Bhavana or the art college of Santiniketan, is still considered as one of the best art colleges in the world.
Other Institutions