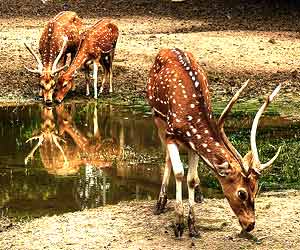 The city of Kolkata is quite famous for its several parks and gardens. These places act as a breathing space in the crowded city and also provide people with the perfect spots for family outings and picnics. Though there are umpteen small community parks in the city, the major parks that attract the tourist includes Zoological Garden, Agri Horticultural Garden, Citizen's Park, Indian Botanical Gardens and Outram Ghat. These parks are exceptionally famous, as they perform a dual duty of entertaining as well as educating the tourists and the residents of the city. Read on to explore the parks and gardens of Calcutta in detail.
Parks & Gardens in Kolkata
Zoological Garden
Zoological Garden is a famous tourist destination of Kolkata. Also known as Calcutta Zoo or Alipore zoo, it is one of the oldest zoological parks in India. The zoo boasts of having several indigenous and exotic varieties of animals within its premises. Royal Bengal Tiger, African Lion, Jaguar, Hippopotamus, Great Indian One-horned Rhinoceros, Reticulated Giraffe, Grant's Zebra, Dromedary Camel and Indian Elephant are some of its attractions. The park also has a good collection of exotic birds. More
Agri Horticultural Garden
In case you have immense interest in botany or you love the company of plants and trees, Kolkata offers you a wonderful option to pursue your interest, in the form of the Agri Horticultural Garden. Situated adjacent to the Zoological Garden in Alipur, this is also a perfect place for you, in case you are planning to do some botanical research or study. Agri Horticultural Garden is also the center for several seminars and workshops, on botanical research and gardening. More
Citizen's Park
Citizenís Park was established recently, in order to provide the city with some breathing space, away from the crowded residential area. Located near the famous Victoria Memorial, this park is a famous jogging place for the residents. The park also has an open air gallery, military hardware, fighter and bomber aircrafts, canons, armored vehicles, and tanks on display. The tourists who come to Victoria Memorial love to spend their evening at this lively park. More
Indian Botanic Garden
Spread over an area of about 109 hectares, Indian Botanic Garden is one vast garden in the Calcutta city, consisting of the rarest collections of plants and trees from across the globe. Several plants and trees from Nepal, Brazil, Penang, Java and Sumatra adorn the premises of the botanical garden. The herbarium, orchid, palm house and botanical library of this garden are worth a trip. More
Outram Ghat
Though it is not exactly a park or garden, Outram Ghat is an open space near Howrah Bridge and Babu ghat, which is a silent and sober riverside spot for early morning and evening walks. The place is also considered a mystic spot for religious rituals. The place has a rustic charm that has attracted people, ever since the city has been established. The beautiful sweep of the river Hooghly below also adds to its charm.