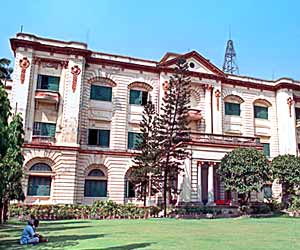 Kolkata is a historical place. It has witnessed the reign of several kingdoms, remained the capital of British India for long and is also the birth place of renowned scholars and saints. The culture of Kolkata is extremely rich and unique. All these factors combine together to make Kolkata a wonderful conservatory of historical and cultural artifacts. The museums in Kolkata range from being the preservatory of antique crafts to ancient ammunitions. These museums also houses works and substances related to great artists of West Bengal. Given here are the details of all the major museums in Calcutta city.
Museums In Kolkata
Indian Museum
Spread over an area of ten thousand square feet, Indian Museum is one of the largest museums in the country. It is an autonomous body, fully funded by Department of Culture, Kolkata. Started with merely two galleries, at the Asiatic Society, it has now grown into a full-scale building, which houses more than 1 million exhibits. The collection includes ancient paintings, sculptures, ammunitions, biological evidences, texts coins and Egyptian mummies. More
Victoria Memorial
Victoria Memorial is one of the most prominent museums in Kolkata. It was built in 1921, in the honor of Queen Victoria of Great Britain. The museum was conceptualized by Lord Curzon. The prominent collections of this museum comprise of ancient western paintings, archives, Mughal miniatures, sculptures, Indian paintings, postage stamps, manuscripts, arms and armors, company school drawings, lithographs and aquatints, rare books and sketches.More
Birla Industrial & Technological Museum
Birla Industrial Museum is housed at the site that initially comprised of the ancestral bungalow of Tagore family, before being turned into a museum by G.D. Birla. The main objective of this museum is to incite scientific inquisitiveness in common man and build a percept of science and technology. This museum displays wonderful works, in diverse branches like Physical Science, Industry, Technology, Electricity, Nuclear Physics, Iron & Steel, Optics, Motive Power, Communication and Mining. More
Nehru Children Museum
Nehru Children Museum, as the very name suggests is especially meant for the entertainment of children. Spread over four floors, this museum comprises of four basic sections - Dolls Gallery, Toys Gallery, Ramayana Gallery, & Mahabharata Gallery. It was opened for public display on November 14, 1972. The beautiful ambience and wonderful collection of this museum is not only appreciated by children, but by adults as well. More
The Asiatic Society
The Asiatic Society was actually formed with the aim of enhancing the Oriental research in Kolkata. The foundation stone of this society was laid by Sir William Jones and Sir Robert Chambers, on January 15, 1784. At the time of the foundation of this society, it was named 'Asiatick Society'. However, in 1825, the antique 'K' was dropped, without any formal declaration and the society became 'The Asiatic Society'. More
Birla Planetarium
More than a museum, Birla Planetarium is an experience, which presents us with a different world altogether - a world full of planets and stars. This planetarium offers magical experience of watching the enigmatic stars in the sky. Popularly known for its vast collection of astronomical equipments and shows related to sky, stars, galaxies, solar system and planets, this is a must visit for people of all ages. Birla Planetarium is also the center of Astronomical studies in India. More
Rabindra Bharati Museum
Rabindra Bharti Museum is a wonderful place for all those people who would love to have a deep insight into the life of Noble Laureate Rabindranath Tagore. It now forms an integral part of the Rabindra Bharti University. The museum houses a magnificent collection of 716 paintings, 168 utensils, 208 personalia, 27 craft & sculptures, 89 spools, 53 furniture items, 593 records, 3297 photographs and 3746 archival documents related to the great artist.