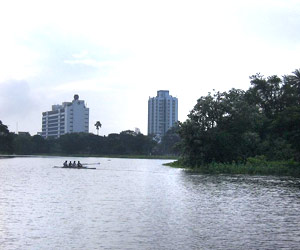 Location
: Kalighat, South Kolkata
Highlights
: Artificial lake, natural forest, children's park, gardens and auditoria
The city of Kolkata has many places that worth visiting, one of the best amongst which is the Rabindra Sarobar. An artificial lake located in South Kolkata, it is about 30 km away from Dum Dum airport and 12 km from the Howrah railway station. Earlier known as Dhakuria Lake, it was later named Rabindra Sarovar in honor of the great noble laureate Rabindra Nath Tagore. It is an interesting place for family outing. There are lots of interesting places in the lake complex as well as in its vicinity. In fact, it is a complete family entertainment zone.
Reaching Rabindra Sarovar is not a problem, as the area is well connected by the metro as well as Kolkata suburban railways. Popularly known as the 'Lung of Kolkata', the place houses an artificial lake, natural forest, children's park, gardens and auditoria. The forests in its vicinity are more than 100 years old. In winters, the place acquires a mesmerizing charm, as thousands of exotic migratory birds arrive here. There are umpteen varieties of fish in the lake; however fishing is strictly banned by the authorities.
At Rabindra Sarovar, there is a fish sanctuary as well, under the cable-stayed wooden suspension bridge, on the southern flank of the forest, connecting to a lake island. Apart from being a family outing venue, the place is also a jogger's paradise. Some people also visit the sunrise point here, for offering morning prayers to the sun. It is also a dating venue for young couples. There are a number of interesting places in and around the Rabindra Sarobar complex. An open air theatre called ' Mukta Manch' is nearby only.
To the north of Rabindra Sarobar, there is a football stadium, known as the Rabindra Sarovar Stadium. Established in 1950, it has a seating capacity of about 26,000 people. In case you are interested in religious expeditions, there is a very old mosque on one of the lake's islands, near the fish sanctuary. The only Japanese Buddhist temple built by Nipponzan Myohoji in Calcutta is also located on the southern border of the complex. On the west front of the lake, there are big cannons of Nawab Siraj-ud-daulah, the last independent ruler of Bengal. There are also many swimming clubs inside the Sarobar complex.