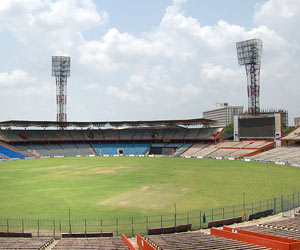 Location
: Dalhousie, Kolkata
Highlights
: Oldest cricket ground in India
Kolkata, apart from being a land of culture and traditions, is also passionate about sports. Famous for its craze for football and cricket, the city boasts of housing the oldest cricket ground in India, the famous Eden Garden. It is also known to be the stadium with one of the largest cricketing facilities in the world. Also called the Lord's of Asia, Eden Garden club came into existence in the year 1864. The sitting capacity of the stadium is 90,000, which is one of the largest in the whole of India.
Apart from a cricket ground, Eden Garden comprises of an indoor cricket stadium, two indoor sports complexes and the All India Radio building. The stadium hosted its first ever first-class cricket match in 1917-18. The first test match of this stadium was played in January 1934. A one day match was played here for the first time in February 1987, between India and Pakistan. The stadium, till now, boasts of having hosted 35 Test matches and 21 One Day International matches.
The pitch at Eden Gardens is traditionally slower and is considered to be good for batting. The stadium was renovated in the 1987 World Cup. The sitting capacity of the stadium, before this renovation, was 1, 20,000. During renovation, floodlights were installed in the ground; roofed stands were built all around, and a new Club House and pavilion built. The Club House is now the office of the Cricket Association of Bengal. Interestingly, the owner of this stadium is Indian Army and the organizer of this stadium is Cricket Association of Bengal.
Highlights
Eden Garden is one of the largest stadiums in the world. It holds the 22nd place, along with Wembley Stadium.
It is the second biggest cricket stadium in the world, behind the Melbourne Cricket Ground.
Eden Garden is the second largest stadium in India, after the Salt Lake Stadium.