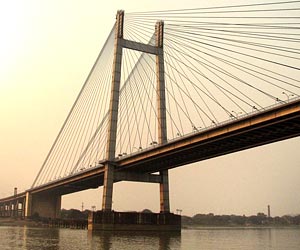 Location
: Over Hooghly River
Type
: Cable Bridge
Highlights
: One of the largest cable bridges in India as well as Asia
Vidyasagar Setu is the sister bridge of Rabindra Setu (Howrah Bridge) and Vivekananda Setu, built over River Hooghly. It is one of the largest cable bridges in India and also one of the largest in Asia. The bridge connects Howrah to the twin city of Kolkata. It serves as a toll bridge for vehicles, but is free for bicycle riders. Vidyasagar Setu is the newest suspension bridge over Hooghly and has been named after the great Indian reformist Ishwar Chandra Vidyasagar.
The construction of Vidyasagar Bridge started in 1978 and it was finally inaugurated on 10th October 1992, after a construction period of about 14 years. The commissioning agency of this bridge was the Hooghly River Bridge Commission (HRBC) and the contracts of construction were given to the consortium of Braithwaite, Burn and Jessop, popularly known as BBJ. The total construction cost is estimated to be 388 Crores.
The longest span of Vidyasagar Setu is 1,500 ft, while its total length is 2,700 ft and the width is about 115 ft. It is supported by 121 wire cables, on four pylons, on a foundation that is about 328 feet deep. It is maintained and operated by HRBC, the Hooghly River Bridge Commission. With its 9 lanes of traffic routes, it is capable of handling more than 85,000 vehicles a day. It is popularly called the second Hooghly Bridge or Golden Gate Bridge of Calcutta as well.