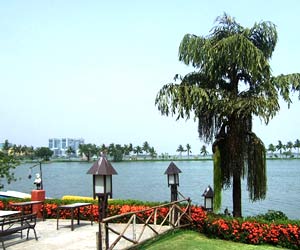 Location
: Salt Lake City, Kolkata
Highlights
: Boating complex, Food court
There are various interesting places in and around Kolkata, for recreational activities. One of them is the serene and pristine Nalban Lake, located in Salt Lake City, about 12 km from the heart of the city. It is a 400-acre lake, surrounded by beautiful forest. It has even been named accordingly, the word Nalban is a combination of two words - 'nal' and 'baní, nal meaning lake and 'baní meaning forest. Situated amidst serene atmosphere, this place is a real delight for all those who love tranquility and solitude. Apart from this, there is also immense scope of fun and frolic here at this spot.
Apart from enjoying the beauty that nature has bestowed upon this place, you can also engage yourself in boating, ranging from simple paddle boats to deluxe Shikaras, depending upon your choice and budget. It is a real pleasure to sail down on the serene water of the lake, passing the small decorated floating huts and other small and big boats. While you sail through the turquoise water of Nalban Lake, the trip is made more pleasurable by the boatmen, called 'manjhi', as he sings the boatmen folk of Bengal, called Bhatiyali.
There is also a food complex in the Nalban Lake vicinity. You can try umpteen cuisines here, ranging form Chinese to Mughlai to Continental. This multi-cuisine food complex is very popular amongst the localites as well as tourists. The Nalban Lake complex is being improved day by day; a hovercraft has been installed here recently. There is also more renovation work going on. For instance, there are plans to introduce sports like parasailing and water scooters, to enhance the attraction of the place.