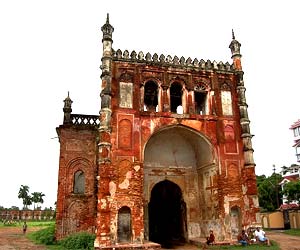 Location
: Shobha Bazar, North Kolkata
Highlights
: Hosts one of the grandest Durga Pooja celebrations in Kolkata
Durga Pooja is a grand festival in Kolkata. It is celebrated in every area and by every citizen of the city. However, some of the places in the city are specially known for the grandeur of their pooja arrangements as well as their ancient history of celebration. One of the most famous amongst them is Shobha Bazar, in north Kolkata. Here, the grand celebration of autumnal Durga Pooja is arranged by the royal family of King Nabo Krishna Deb. The pooja is performed at the Rajbari, a palace declared to be the Heritage Building of Kolkata.
Durga Pooja is being celebrated at Rajbari since 1757, when Lord Clive won the Battle of Plassey. From this historical year, King Nabokrishna Deb set the custom of celebrating Durga Pooja in the royal palace, Rajbari. From then onwards, the pooja is celebrated with extreme enthusiasm and fervor at this place, every year. It welcomes every body whole heartedly. In fact, many devotees from different parts of the city come here to participate in this holy festival. The beautiful ambience of the palace and the holy spirit of people towards this celebration certainly captivate you.
Rajbari is situated about 6 kms away from the hub of Calcutta i.e. Chandni Chowk. It is well connected by metro, Circular Railway, taxi, bus, and all other means of local transport. Apart from the pooja, Shobha Bazar is also famous for Rajendra Lal Mullick Bazar, a famous shopping place. The famous Scottish Church College is also located near by. The place is active throughout the year; however it gains maximum vibrancy only during the grand celebrations of Durga Pooja. At that time, the roads get jam packed and the atmosphere becomes totally electrifying and exhilarating.