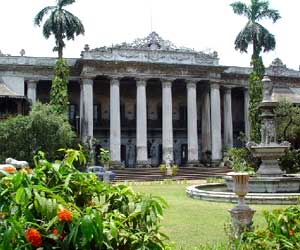 Location
: Muktaram Babu Street, Kolkata
Built in
: 19th century
Kolkata is full of magnificent architectural structures. One of them is the beautiful Marble Palace. A palatial mansion, dating back to the 19th century, this architectural marvel stands on the Muktaram Babu Street, in North Kolkata. The mansion is famous for its beautiful marble walls and floors, huge lawn and magnificent interiors with which it has been adorned. About 90 different varieties of marble have been used in the entire mansion. Marble Palace, as is evident, has derived its name from the marble stones from which it is built. A glimpse of this white serene palace is simply mesmerizing.
Built for residential purposes, by Raja Rajendra Mullick in 1835, this wonderful mansion is still used by his heirs. The current resident of this palatial mansion is the family of Raja Rajendra Mullick Bahadur. Built in a typical neo-classical style, this palace has been adorned with several European and Indian objets d'art and Victorian furniture. Apart from large chandeliers, wall-clocks, huge mirrors and busts of kings and queens, the house is also decorated with several unique and wonderful paintings. Paintings by Sir Joshua Reynolds, Rubens, Titian, Murillo, and John Opie can be seen in every corner of the palace.
The lawns and courtyard of Marble Palace have been built in the traditional Bengali style. There is also a pool in the garden. The bungalow behind the lawn has sculptures of Jesus Christ, the Virgin Mary, Hindu Gods, Lord Buddha and Christopher Columbus. The private zoo of Raja Rajendra, near the palace, boasts of a collection of birds from all the parts of the world. As the palace is privately owned, one has to obtain a pass from the West Bengal Tourist office, 24 hours prior to the time of entry. The palace is open for visitors daily, except Mondays and Thursdays, from 10.00 a.m. to 4.00 p.m.