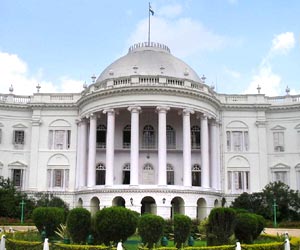 Location
: Dalhousie, Kolkata
Designed by
: Mr. Charles Wyatt
Area
: 27 acres
Highlights
: Residence of the Governor of West Bengal
Kolkata is a wonderful city with several wonderful architectural marvels. One of them is Raj Bhavan, the residence of the Governor of West Bengal. The present Governor of West Bengal Mr. Gopal Krishan Gandhi currently resides in the mansion. Built in 1803, it is one of the finest examples of British architecture in Calcutta. Raj Bhawan was designed by Mr. Charles Wyatt of the Bengal Engineers and constructed as the residence of the Governor-General of India. The building is spread over an area of 27 acres.
The three-storied structure of Raj Bhavan was inspired by the famous Kedleston Hall in Derbyshire. The first Governor-General of British India to reside in this palace was Marquess Wellesley. Interestingly, exactly 100 years of Wellesley's residence, this house was resided by Marquess Curzon, the owner of Kedleston Hall in Derbyshire, who came to India as the Viceroy. Though the Palladian front and the dome of Kedleston Hall have been faithfully copied, the Raj Bhawan of Kolkata is much larger than the ancestral house of Curzons, in Derbyshire.
The total floor space of Raj Bhawan is 7,800 sq mr. The different sections in this building have been reserved for different purposes. A magnificent marble hall on the ground floor is used for the public meetings held by the Governor. Apart from that, there is Brown Dining Room, Blue Drawing Room, Council Chamber, Throne Room, Banquet Hall and the Ball Room, each having a specific and defined purpose. Raj Bhavan is, indeed, one of the finest residential palaces under the territory of Government of India.