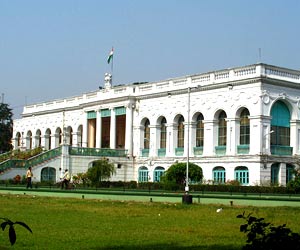 Location
: Near Belvedere Estate, Kolkata
Opened in
: 1953
Highlights
: Largest library in India, Second largest library in Asia
National Library of Kolkata is the largest library in India and the second largest one in Asia. It was opened for public on 1st February 1953. It is currently located close to Belvedere Estate, near the Alipore Zoo of Calcutta. Earlier, this building served as the residence of former Lieutenant Governor of Bengal. Presently, it boasts a collection of 2 million books and approximately half a million documents.
National Library functions under the Department of Culture, Ministry of Tourism and Culture, Government of India. With a vivid collection of about 20,00,000 books and 5,00,000 manuscripts in various languages, like Assamese, Bengali, Gujarati, Hindi, Kannada, Kashmiri, Malayalam, Marathi, Oriya, Punjabi, Sanskrit, Sindhi, Tamil, Telugu and Urdu, the library has a membership of more than 18000 readers.
National Library also has an archive with the richest collection of newspapers and periodicals, dating back to the 19th and 20th centuries. You can also get to see some rarest of rare books, manuscripts, original letters and notes, related to renowned personalities of the world, as a part of the rich collection of this library. If you are one of the scholarly kinds, a visit to the National Library is surely warranted.