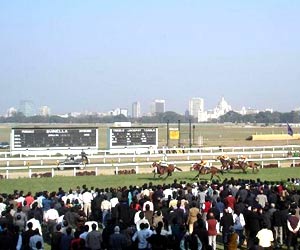 Location
: Near Victoria Memorial, Kolkata
Built in
: 1820
Highlights
: One of the largest horse race venues in India
Kolkata served as the centre of British residence in the past. Gradually, the British also developed several means of amusement and sports in the city. One such spot is the Kolkata Race Course, which was developed by the British in 1820. Even today, it is one of the largest horse race venues in India. Many significant and prestigious events are held here on a regular basis. In fact, the race course is a very popular place amongst the elites of Calcutta.
Other than being known for sports events, Kolkata Race Course is also known for its wonderful surroundings and peaceful atmosphere. Located near the Victoria Memorial, in the heart of the city, it is an unmistakable sight for any tourist. Since its development, this race course has been maintained by the Royal Turf Club of Calcutta. Since its inception, it has been attracting locals as well as the tourists coming to the city.
The races at Kolkata Race Course are held basically from the months of July to September and November to March. Generally, these races are held on Saturdays and other public holidays. The important racing events that are regularly organized here include the Queen Elizabeth Cup & the Calcutta Derby. Apart from being used for races, the race course is also used for polo matches. It is surely a must-visit place in Calcutta.