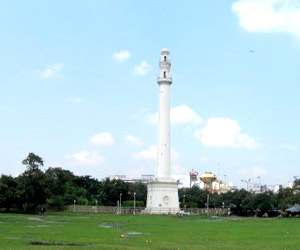 Location
: Near Esplanade, Kolkata
Founded by
: Sir David Ochterlony
Height
: 158 ft
Kolkata is full of impressive monuments and wonderful architectural beauties. One of these magnificent architectural structures is the Shaheed Minar, situated near the Esplanade. This architectural masterpiece was earlier known as Octerloney Monument, after its founder Sir David Ochterlony. Built as per the outstanding Egyptian style, this magnum opus was built as memorandum of the founder's victory in the Nepal War of 1814-1816. To some an extent, it looks like a replica of the famous Qutub Minar of Delhi.
The famous Shahid Minar of Calcutta is about 158 ft high. It has two balconies at the top. The top floor of the minar is accessible by a serpentile staircase. A total number of 198 stairs from the ground floor take you to the first balcony of the tower, from where 25 more stairs lead you to the second balcony. The splendid tower was renamed as 'Shaheed Minar', from 'Octerloney Monument', in the year 1969, in the honor of those great soldiers who sacrificed their lives for the freedom of India.
Presently, Saheed Minar has become the centre of political meetings and rallies in Kolkata. Party assemblages and seminars, on various contemporary issues, are held here frequently. The tradition of holding such meetings here began in 1931, after Rabindranath Tagore headed convocation at this place, condemning the vandalism of the British Government in India, when its officers ruthlessly shot dead a youth in Hizli. From then onwards, the tower became the venue of political rallies as well as convocations. Apart from this, a view of Kolkata from the top of the minar is exclusive and exceptional.