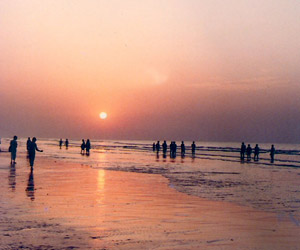 Location:
West Bengal
Summer Temperature:
Max: 37
o
C; Min: 19
o
C
Winter Temperature:
Max: 24
o
C; Min: 3
o
C
Best Time to Visit:
July to March
A blissful romantic getaway from the clutter and chaos of city life, Digha is just the place to head for, if you are looking forward to enjoy a quaint and refreshing weekend on a beachside. Located at a distance of about 185 kms from the City of Joy, Kolkata, this small hamlet is an idyllic place boasting of a charming and alluring ambience. Add to this a pleasurable climate and Digha tops the chart when it comes to spending a leisure weekend on the banks of a sea. Talking about the weather of Digha, this hamlet witnesses three main seasons, namely summer, winter and monsoon. The summers usually start from the month of April and continue till June, with mercury rising to a maximum of 37
o
C. However, cool winds from the sea keep the place pleasant and amusing.
The month of July witnesses the onset of monsoons which lasts till the end of September. Digha experiences average shower, which instantly brings down the rising mercury levels, thus bringing in relief. Humidity is high during these months. However, with October, the mercury further dips away, making way for winters to set in. During this season, the temperatures range from a maximum of 24
o
C to a minimum of 3
o
C. Winter lasts till the month of February and is marked by pleasant and enjoyable climate. July to March is the best time to visit the beach town of Digha. During this time, you can indulge is both sightseeing and water sports.