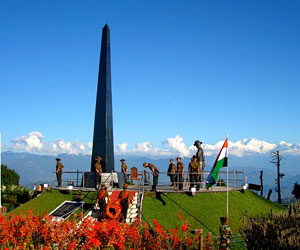 Darjeeling is blessed with beautiful landscape and pleasant weather. Nestled amidst rolling mountains, the first sight of this serene city is enough to captivate a tourist. Boasting of a strategic location and unbound beauty, this place has been a major tourist destination of India since the British era. The cultural diversity, historical connexion, delicious cuisines, unique local market and fantastic trekking expeditions are some of the other reasons why tourists love exploring this beautiful hill resort. Darjeeling also offers them a large number of tourist attractions worth visiting, right from vantage points to war memorials, temples to monasteries and toy train to mountaineering institute. Given below is information on the places to see in Darjeeling city of West Bengal.
Tiger Hill
Tiger Hill is one of the most popular vantage points in Darjeeling. From here, you can get to see world's third highest peak, 'Kanchenjunga', easily. If you are exceptionally lucky, you can also get to see the highest peak of the world' Mt. Everest' from this place. Tiger Hill also offers some awe-inspiring views of surrounding mountains and valley.
War Memorial
The war memorial was built in Darjeeling, in the memory of those brave Gorkha soldiers who sacrificed their life for their country, in all wars and operations that taken place since independence. It was constructed by the Zilla Sainik Board, in 1995. When in Darjeeling, you must visit this place to pay homage to those brave-hearts.
Dhirdham Temple
The Dhirdham temple in Darjeeling roughly resembles the famous Pasupathinath Temple of Kathmandu. The presiding deity of this temple is 'Lord Shiva'. The temple's ceiling reflects the influence of Tibetan architectural style. It was constructed by Rai Saheb Purna Bahadur Pradhan in 1939. It is situated near Darjeeling Railway Station.
Japanese Peace Pagoda
Japanese Peace Pagoda is one of the Peace Pagodas in the world, which was built under the guidance of a Japanese Buddhist monk, 'Nichidatsu Fujii'. This place was constructed with the motive of providing enlightenment and focus to the people of all races and origin, to come together and work for world peace. The height of the pagoda is 28.5 meters and diameter is 23 meters. Its foundation was laid in 1972, but it was opened to visitors in 1992 only.
Buddhist Monasteries
Buddhism is one of the most widely practiced religions in Darjeeling. There are many monasteries in the hill resort, standing as a witness of its tryst with Buddhism. The most popular ones include Sakya Monastery (Ghoom), Dali Monastery, Bhutia Busty Monastery, Yiga-Choling Buddhist Monastery and Makdhog Monastery. Each of these monasteries has its own glorious tale to tell.
Tea Gardens
Darjeeling is internationally renowned for its premium quality tea. There are about 70 tea gardens in the hill resort, producing one of the finest-quality teas in the world. While in Darjeeling, you must visit a tea garden to know about the entire manufacturing process of the tea.
Bengal Natural History Museum
Bengal Natural History Museum provides a complete view of the fauna native to different altitudes of the eastern Himalayas. More than 4,000 specimens have been classified here. The museum has different divisions for birds, butterflies and beetles, reptiles and mammals.
Himalayan Mountaineering Institute
Himalayan Mountaineering Institute was inaugurated in 1954, by India's first Prime Minister, Pt Jawaharlal Nehru. Tenzing Norgay Sherpa, the first man to climb Mt. Everest, was the first Director of Field Training, at this institute. It is one of India's finest mountaineering institutes, which also houses a mountaineering museum that boasts of a rare collection of historic mountaineering equipments.
Padmaja Naidu Himalayan Zoological Park
Spread over an area of about 44 hectares, Padmaja Naidu Himalayan Zoological Park is renowned for its successful captive breeding of several critical endangered species, like Snow Leopard and Red Panda. Situated at an altitude of 2133.5 meters, on the Birch Hill, this zoo now serves as home to many species of endangered animals as well as birds.
Llyod Botanical Garden
Spread in about 40 acres of land, Llyod Botanical Garden has been made as a distant annexe of the Calcutta Botanical Garden. This place has wonderful collection of orchards and it is also known for its collection of several exotic species of flora.
Toy Train
The real name of the Toy Train in Darjeeling is 'The Darjeeling Himalayan Railway'. It is a 2 ft narrow-gauge railway, running from Siliguri to Darjeeling. One of the UNESCO's World Heritage Sites in India, it offers a wonderful and pleasing journey, of approximately 86 km, amidst beautiful mountains and forests. The journey to Darjeeling is incomplete without an experience of the Toy Train.