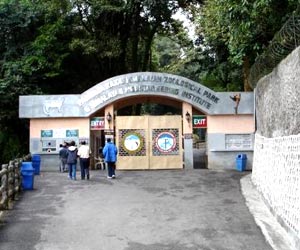 Location:
Slopes of Jawahar Parbhat, Darjeeling
Built In:
August 1958
Spread Over:
44 hectares
Located below Himalayan Mountaineering Institute, on the slopes of Jawahar Parbhat, Padmaja Naidu Himalayan Zoological Park of Darjeeling is a 'one of its kinds' park in the entire West Bengal. It is situated at an elevation of 2133.5 meter and spread over an area of 44 hectares. Established on August 14, 1958, this zoo is one of the major tourist attractions in Darjeeling. It attracts more than 300,000 visitors every year. Popularly known as Darjeeling Zoo, it falls under the supervision of Department of Education of the West Bengal Government
Padmaja Naidu Himalayan Zoological Park is meant for studying and preserving Himalayan fauna. This zoo specially focuses on breeding animals adapted to alpine conditions. It has been successfully involved in the captive breeding of many critically endangered Himalayan species, like Snow leopard, Himalayan Wolf and Red Panda. This zoo also serves as the home for other Himalayan species, like Gorals (mountain goat), Siberian tigers and many endangered and exotic species of birds. It also serves as the core for Central Zoo Authority of India's Red Panda Project.