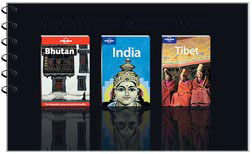 India is a vast country. There is so much to explore in this lovely country. In order to have detailed information and knowledge about this fascinating country there are many guide books and traveler's manuals that are available for tourists. These helpful Indian guidebooks will assist you very much while you travel in India. Also known as the traveler's Bible, the India travel guide gives you detailed information about various places and also about India as a whole.
The Lonely Planet
The most famous of all travel books, the Lonely Planet travel guide for India gives out detailed information about this beautiful country like what to see, what to expect and how to enjoy this mystical country. The Lonely Planet traveler's manual also has come out with a phrasebook that is very useful for learning the commonly used phrases in the north of India. Buy it and bring it with you. The phrasebook is a small booklet that easily fits in your pocket. The lonely planet has detailed maps, hotel information, etc. and is usually very handy when traveling around.
The India Handbook
The India Handbook is yet another very helpful guide that is available in most travel stores. It is published by Footprints. The India Handbook is updated every year. This traveler's manual also has maps for every major city and has addresses of major hotels and restaurants.
Travels Through Sacred India
This book is written by Roger Housden and has fascinating details about the common folklores and interesting traditions of India. This book scores on vivid description and first hand examples and instances of those who have been mesmerized by the mystical country of India.
The Rough Guide to India
The Rough Guide to India is another popular travel guide that has detailed information regarding hotel reservations, quick medical aid, train and flight timings among other enthralling facts. It also has many details about the cultural and historical background.