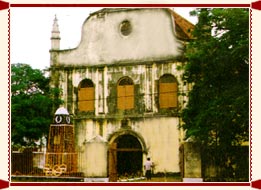 Kanpur is an interesting tour destination in North India. The city is situated amidst Gangetic Plains and has numerous sites of historical importance. Some of these sites are well documented in the chronicles of History. We are listing a few of them: -
Allen Forest Zoo
Allen Forest Zoo in Kanpur is one of the most visited Zoological Parks of not only Uttar Pradesh but also the whole of India. This zoo cum botanical garden is a must visit destination during your tour to Kanpur. Allen Forest Zoo that is popularly called the Kanpur Zoo was opened in 1971 and ranks among one of the best zoos in the country. It is an ideal place for outdoor life and picnics amongst picturesque surroundings.
Indian Institute of Technology Kanpur
The Indian Institute of Technology Kanpur (IIT Kanpur) is one of the Indian Institutes of Technology. This IIT was set in the year 1960 in the city of Kanpur. From a humble origin in 1960,the institution has grown into one of the top technological institutes in India. The education is primarily based on engineering technology. A few research works are also taken up but this field can be considered as the Achilles' heels of IIT. In totality, research works constitute not even 1% of the total tutorials undertaken in these institutions. Nevertheless, the institution has been largely successful in creating a niche for itself.
Jajmau
The mound of Jajmau that is also called Jajmau is one of the most important and the most visited tourist destination in Kanpur. In fact, the mound of Jajmau is considered an important excavation sine in not only Uttar Pradesh but also in India. The mound of Jajmau that is located on the eastern end of Kanpur occupies a high place among ancient cities of the region. Excavations of the mound were undertaken during 1957-58 that unearthed antiquities ranging from 700 BC to 1600 AD. These excavations resulted in unearthing various items that throw a light on the life and times of later Vedic period and beyond.
Kanpur Memorial Church
The Kanpur Memorial Church that is named All Soul's Cathedral was actually built in 1875, in honor of the British who lost their lives in the Sepoy Mutiny of 1857. The church is now popularly referred as the Kanpur Church. Walter Granville, architect of the east Bengal Railway, designed the Church. The Church has been erected in Lombardy gothic style. Furthermore, it has been handsomely executed in bright red brick, with polychrome dressings. The interior contains monuments to the mutiny, including several memorial tablets. The memoirs related to this church are truly heart wrenching.