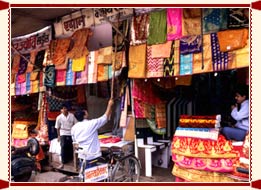 Kanpur symbolizes leather. In fact Kanpur is synonymous to leather. The city has for long been associated with the production, supply and marketing of leather in India and world. The city boasts of hundreds of private and public owned leather units that produce and export quality leather products. These units produce quite a range of leather such as Italian Leather, Spanish Leather, French Leather and Suede leather among others.
The city offers a range of leather products for the tourists to buy that includes Suitcase, Bags, Airbags, Purses, Wallets, Jackets, Belts, Gloves, Football, Volleyballs, Basketballs, Shoes, Saddles and decorative among others. Do pick a few of them for your near and dear ones. Go for fine quality Italian leather shoes, Jackets and wallets. These items come at quite a steal in Kanpur. The moment it crosses Indian Ocean, astronomical zeros starts adding in the price tag.
The major shopping centers in the city are; The Mall, Birhana Road, Gumti No. 5, Parade, Naveen Market, Matson road and P.P.N. Market. The city center also offers the shopper a delightful array of State Emporia, viz. UPICA, UP Handloom Emporium, The Mall, Phulkari- Punjab Emporium and Manjusha- Bengal Emporium.