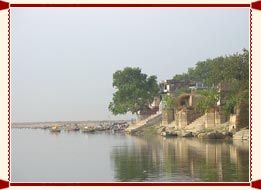 Bithoor is an important religious and historical town that is situated 22 kilometers from the city of Kanpur. Bithoor that is situated on Kannauj Road is a tranquil spot, suffused with historical and religious significance. Situated on banks of Ganges, Bithoor' s glorious past is wrapped in legends and fables. According to Hindu mythology, Bithoor was chosen by lord Brahma, the Creator, as his abode after the destruction of the Universe. It was also here that the great saint Valmiki meditated and wrote the Ramayana. Also, it was here that the legendary child, Dhruva, meditated and received the blessing of Gods.
Bithoor also is place where historical such as Rani Lakshmi Bai and Nana Saheb Peshwa, who played key role in the country's freedom's struggle, spent their childhood. The place not only offers a trip back into the annals of history, it is also a beautiful spot with lakes, gardens and boating facilities.
The most important spot in Bithoor is Valmiki Ashram. There is a small pool inside Valmiki Ashram, famous as Sita-Kund. Sita 'Rasoi' is still preserved, near which stands `Swarga Naseinee' or Deep Malika Stambha, studded with niches all around for illumination. The tower has about 48 steps leading to its top that is surmounted by a cupola, from where one can heave a panoramic view of the entire area.
In modern times, Bithoor fell into obscurity, only to regain prominence in the 18th century. During 1753-75 under the rule of Nawab Suja-ud-Daula, the administration of Bithoor was entrusted to Al Mast Ali Khan, who erected a mosque near Lakshman Ghat on the right bank of Ganga.
Bithoor was the capital of the Pargana from 1811 to 819. After the departure of the courts, the place was assigned as a residence to Baji Rao, the deposed Peshwa. The Palace of Nana Sahib was reduced to rubble by the British in 1857 and the only traces remaining of it are some large wellheads and broken palace walls.