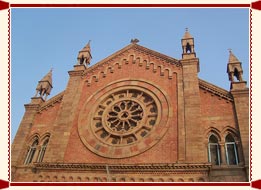 The Kanpur Memorial Church that is named All Soul's Cathedral was actually built in 1875, in honor of the British who lost their lives in the Sepoy Mutiny of 1857. The church is now popularly referred as the Kanpur Church. Walter Granville, architect of the east Bengal Railway, designed the Church. The Church has been erected in Lombardy gothic style. Furthermore, it has been handsomely executed in bright red brick, with polychrome dressings. The interior contains monuments to the mutiny, including several memorial tablets. The memoirs related to this church are truly heart wrenching.
It happened so that the mutineers from the Kanpur Barrack laid siege to the barrack residential quarter that housed European officers and their family. The whole plan was masterminded by non other than Nana Sahib who was, till mutiny broke, a trusted ally of British. The siege was resisted by handful of officers who were low on arsenals but high on valor. In fact, their Enfield riffles were no match to the canon balls pounded by the British 6-pounders and 8-pounders used by the mutineers. Nevertheless, against all odds, British officers were largely successful in saving the life of innocent womenfolk and children who got stuck there. But all came to end when Nana Sahib came to his cunning self. He faked a siege fire and entered the fort somehow. The result was one of the deadliest massacres in the modern Indian history. Nana ordered every white-skin to be chopped in order to frighten and slug the steps of the reinforcement that was on the way to fight them. The order led to gang rapes and mutilation of women and children. The incident has been well chronicled in history and particularly in the novel "Cawnpore" that was based on the incident. Nana Sahib was notoriously bestowed with the title of " The Butcher of Cawnpore".
In the east of the Church is a separate enclosure. It houses the memorial garden that can be approached through two gateways. This is separated from the main building through a handsome carved gothic screen that has been designed by one Henry Yule. Its center is occupied by the beautiful carved figure of an angle by Baron Carlo Marochetti, with crossed arms, holding pylons, symbol of peace. The Military Cemetery on the edge of the cantonment contains a number of graves with interesting epitaphs from the late 19th century. Within the city the king Edward VII memorial hall is noteworthy and so is The Christ Church building, built in 1840.