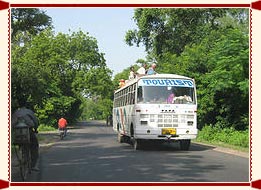 Kanpur is an important industrial and commercial town in Northern India. The city is the seat of leather industry in India. Therefore it is but natural that Kanpur has a well-developed transport network and is well connected to all the major Indian cities and states by air, road and rail.
By Air
Kanpur is connected to major Indian cities and tourist spots through air service. The nearest airport is Chakeri that is just off to the town. There are daily domestic flights to and from Kanpur to several cities in India. Apart from the state owned Indian Airlines, there are many private air taxi operators that offer their services from Kanpur to other Indian cities.
By Rail/Train
Since Kanpur lies in the heartland of the North Indian plains, it is well connected to Delhi, Kolkata, Mumbai and other parts of India. Kanpur Barrack is the main Railway station in Kanpur that falls on the Grand Chord route. Various Expresses and Super Fast trains connect Kanpur to the rest of India.
By Road
Situated in the flat Ganga plains, Kanpur has a good network of roads. Numerous public and private buses ply to and from nearby and far-flung cities. Uttar Pradesh State Road Transport Corporation runs a fleet of well-maintained buses apart from the luxury coaches offered by private operators.