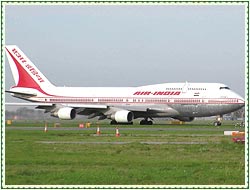 Dalhousie, a hill station located in Himachal Pradesh, is an ideal tourist destination, mainly for its healthy climate and naturally beautiful location. The place is spread over an area of around 14 kilometers area and is built on five hills - Kathlog, Potreyn, Tehra, Bakrota and Balun. British rulers, who had bought the place for some Rs 2300 from the King of Chamba, developed the place. Sir Donald McLeod, as a tribute, named the place after Lord Dalhousie, the then British Governor General of India. With its great connectivity, you will encounter no problem in traveling to the place. Read on to know how to reach Dalhousie.
By Air
Air journey to Dalhousie is time saving and comfortable, in comparison to other two modes of transportations. As there are no airports in Dalhousie, near by cities offer excellent network of airports, from where tourists can take road transport for reaching Dalhousie. The nearest air terminal from Dalhousie is located in Gaggal, in the Kangra district, at a distance of 135 km from. Amritsar and Jammu and Kashmir are other near by airstrips that can be availed.
By Rail
Traveling to Dalhousie by train is cost effective and experience enriching, for you meet and interact with diverse people and enhance your horizon by knowing their culture and tradition and language. Pathankot is the nearest railhead from Dalhousie. From Pathankot, a large number of trains are available to different cities of India. Once at Pathankot, tourists can hire taxis or buses, available at regular intervals, from here to Dalhousie.
By Road
As Dalhousie neither has an airport nor a railway station, roads are the only available modes of direct transport. The place is well connected with other major cities of the region, with well-maintained roads. Dalhousie is 145 km from Chamba, 190 km from Amritsar and 235 km from Simla. It has excellent bus service, offered by state transport departments and private tour operators, for reaching all the key cities with and outside the state.