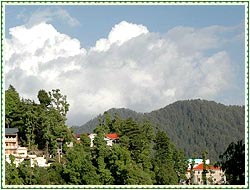 Dalhousie, a beautiful and picturesque hill station, attracts tourists the whole year. The weather is ideal for tourism, except in the months of December and January, when heavy snows and chilly breezes could even freeze you. However, even during this time, the snow-lovers descend upon the hill resort. During winters, when paths and highways might get choked with snow, army personnel come to rescue and clear the same. In order to get more information on the weather and climate of Dalhousie, read on.
Summers
Summer season in Dalhousie lasts from mid-March to mid-June. In this season, temperature is moderate and thermometer fluctuates between 15.5 deg C and 25.5 deg C. Most of the tourists, especially from the plains of India, flock here in this weather only. When rest of India experiences hot and humid weather, Dalhousie remains pleasant and cool. Thus, people who want some respite from merciless hot temperature opt for the hill resort.
Winters
Dalhousie experiences heavy snowfall and even rain in winters, which last from November to February. The winters are tough here. Being located at high altitude, the place experiences minus temperature in winters and even snowfall takes place during December and January. Hotels provide hefty discounts to travelers in winter, which is an added advantage if you want to save some money on your accommodation.
Monsoons
The monsoon season in Dalhousie lasts from June to September. The place receives annual average rainfall of around 214 cm. After every rain, mountains give clean and shining semblance and become the most scenic. Monsoon season gives the best opportunity for newly married couples to go to Dalhousie for honeymoon, as weather become romantic and exhilarating.