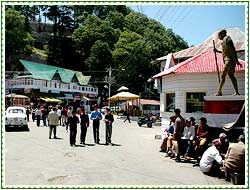 Located along the western side of the Dhauladhar Range of the Himalayas, Dalhousie is a very beautiful hill station to spend your holidays in. Built on and around five hills, the city was established by British rulers in the year 1854. It stands perched at a height of 6000-7000 feet above the sea level, adorned with natural beauty that is astounding. The place has many tourist attractions including churches made in British architecture. Apart from that it boasts of numerous excursions, nearby places that are worth seeing.
Khajjar
Located around 27 kilometers from Dalhousie, Khajjar is a major tourist attraction. The place is named after the twelfth-century, golden-vaulted temple of Khajinag. The place has picturesque lakes, magnificent meadow, and exotic architecture, which make it truly enchanting.
Gandhi Chowk and Subash Chowk
Both these spots are market places, full of attractions for shopping, with historical importance. Shops and restaurant situated near Gandhi Chowk show the lifestyle of Dalhousie. Similarly, Subhash Chowk houses Himachal Handloom Industry showrooms, where travelers shop for indigenous artifacts and products.
Subhash Baoli
Located around two kilometers away from Subhash squire in Dalhousie, the place offers a magnificent view of the snowcapped peaks in nearby surroundings. The place has historical importance, as it is linked with the famous freedom fighter 'Subhash Chandra Bose'.
Kalatop Wildlife Sanctuary
The sanctuary is full of versatile flora and fauna. Ghoral, Himalayan black bear and barking deer are some major creatures that can be glimpsed in the sanctuary. Kalatop Wildlife Sanctuary also offers good trekking & mountaineering opportunities to travelers, for further exploration of nature as well as adventure.
Dainkund
The playground of Beas, Ravi and Chenab rivers, Dainkund is beautifully located in sub-Himalayan range of mountains. It forms the largest slope in Dalhousie. The place offers panoramic overview to the travelers. A temple dedicated to some indigenous goddess is also there.