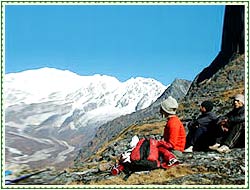 Kullu valley is located in Himachal Pradesh, near the beautiful hill station of Shimla. With the mighty Himalayas forming as its backdrop, the valley looks like a picture straight out of a fairytale. Comprising the major tourist attractions of Kullu are its exquisite temples, which attract tourists from various parts of India as well as abroad. The best time to visit the valley is in the summer season i.e. from April to June. In this article, we have provided a list of all the tourist attractions that you should cover on Kullu sightseeing tours.
Sultanpur Palace
Sultanpur Palace is one of the major attractions of the Kullu valley. It houses some beautiful miniature paintings done in Kullu style, with simple themes such as rural backgrounds, without human figures in them.
Raghunathji Temple
Housing the idol of Lord Raghunathji in His chariot, this temple is highly revered by the people of India. It was built in the 17th century by Raja Jagat Singh of Kullu, to atone for his sin of bringing the idol from Ayodhya. Raghunathji is the presiding deity of Kullu. The erstwhile rulers Kullu used to rule over their kingdom, as his regents and not as the king themselves.
Bijli Mahadev Temple
Situated at Sultanpur, the temple holds great religious significance. However, the temple is much more famous because a 20 m high rod, which serves as a flagstaff. It is like a ritual to use the flagstaff for drawingh lightning that completely damages the temple, along with the 'Shiva Linga' enshrined there. The idol is again set together carefully by the temple priest, using only pure butter made of cow milk.
Basheshwar Mahadev Temple
Located at a distance of 15 km from Kullu, Basheshwar Mahadev Temple is dedicated to Lord Shiva. It dates back to the 9th century and is situated on the banks of the River Beas. The massive temple has been built in pyramidal shape and houses a large 'Yoni-Lingam' idol, representing Lord Shiva and His consort Goddess Parvati. The floriated scrollwork on its exteriors and intricate stone carvings definitely make it worth a visit. The idols of Goddess Durga, Lord Vishnu and Lord Ganesha are housed in the three-sided shrines outside.
Jagannathi Devi Temple
Jagannathi Devi Temple is situated at a distance of almost 4 km from the Kullu valley. One has to hike up the cliff to reach the temple, which comes under the Bhekhli village. It offers beautiful views of the city from above.
Akhara Bazaar
Popular as one of the main bazaars and shopping areas of Kullu, Akhara Bazaar has a number of shops, selling Kullu caps and woolen apparels such as shawls, pattoos, gudmas, puhlas and namdas or rugs.
Kaisdhar
You have to cross a steep hill to reach the charming picnic spot of Kaisdhar. It has abundant natural beauty and several opportunities for bewitching nature walks. Kaisdhar is just the perfect place to forget all your sorrows and get completely rejuvenated.
Kasol
Situated on the banks of River Parvati, Kasol is an open glade with clean white sand, grass meadows and rocky terrain. It is an idyllic holiday destination and a hotspot for trout fishing.
Shoja
Shoja is a beautiful place, perched at an altitude of 2692 m above sea level. It offers beautiful views of Kullu, its snow-capped peaks, valleys, rivers and streams, thick-wooded forests and grass meadows.
Raison
Raison is a camping site, run by Himachal Tourism, on the banks of River Beas. It is situated on the Kullu-Manali highway and is one of the very few places in Himachal Pradesh that offer solitude and adventure at the same time.
Katrain
Katrain is the widest point in the entire Kullu Valley. It has Baragarh Peak on its one side, which is situated at an altitude of 3325 m above sea level. Katrain is also famous for its orchards, bee-keeping and trout fishing.
Largi
34 km from Kullu lies Largi, a tiny hamlet known for its scenic views and an excellent site for trout fishing. You will need a permit is to visit this enchanting hamlet. It is situated at the meeting point of two Himalayan torrents, known as Sainj and Tirthan.
Jagatsukh
The ancient village of Jagatsukh was the first capital of the erstwhile state of Kullu. The two ancient temples worth visiting here include the small Gaurishankar shrine and the temple of Goddess Sandhya Devi. The latter had a chalet roof and wooden verandah added to it in the 19th century.
Deo Tibba
Deo Tibba is situated at an altitude of 2,953 m above sea level. The place has been found to have a mention in the great epic of Mahabharata, in which it has been identified as Indralika. It is said that Arjuna performed penance here, on the advice of Maharishi Vyas, to obtain the Pashupati Astra from Indra.
Manikaran
Situated at an altitude of 1,737 m above sea level, Manikaran is famous for its hot sulphur springs, which are situated near the River Penal. The water lof these springs is believed to have medicinal properties. Manikaran is a popular pilgrimage place of both Hindus and Sikhs.
Tabo Monastery
Tabo Monastery is situated in the Spiti Valley of Himachal Pradesh. The great teacher and translator Rinchen Zangpo founded the monastery in 996 AD and till today, it holds the distinction of being the largest monastic complex in the Spiti region.
Sujanpur Fort
Situated in the Hamirpur district, Sujanpur Fort stands tall on the banks of River Beas. This fort, being perched on top of a hill, is popularly known as 'Tira' and was built by Raja Abhaya Chand in 1758.