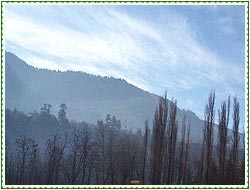 Kullu valley forms one of the most visited hill stations in India, owing to its pleasant weather and exquisite natural beauty. The place has three seasons in a year. Every season has its charm here and gives it a beauty in its own entirety. The most active season for tourism is summer, when tourists from across the globe flock in, in large numbers. During summer, nights are still cool and days a little bit warm. Seasonal changes resemble in flora too, with cherry blossom occurring during April and apple blossom being seen in early May. Let's get more information on the weather and climate of Kullu.
Summer
Summer season in Kullu starts in March and lasts until June. During summers, the maximum temperature reaches 30 degree Celsius in the day, while the nights still retain a bit of chill. Summer is the season when tourists come in large number. When rest of India goes through extreme heat and hot blows of air, Kullu offers respite, with its cool and calm. Light woolen and cotton clothing is ideal during this weather condition.
Winter
Extreme weather is observed in Kullu during the winters, when the temperature goes down to freezing point. From December to February, Kullu observes heavy snowfall. During this period, major part of Kullu remains covered with the white blanket. However, the snow does not remain on the ground for a long time and tourists still can enjoy the fun of sightseeing. Heavy woolen clothes are required during this weather.
Monsoon
Kullu experiences rainy season from July to September. During rains, the weather over here becomes chilly, as the snow range is near. This is the time when the valley looks its most beautiful, with freshly washed leaves of trees. In this weather condition also, travelers are recommended to carry light woolen clothes to deter cold.