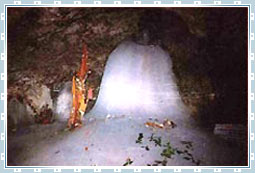 Amarnath Yatra in India is dedicated to Lord Shiva, one of the Trinity gods. The Amarnath shrine is located approximately 145 km from Srinagar, 4,175 m above sea level. The path leading to the holy cave of Amarnathji is inaccessible in the winters. This is because from September to June, the weather conditions in the area are extremely hostile and the path remains covered with snow. The Amar Nath pilgrimage tour from Kashmir is possible only in monsoons, i.e. from July to August.
The Amarnath yatra holds great significance for the devotees, especially of Lord Shiva. It is believed that an ice Shivalinga forms in the cave of Amarnath in every lunar month. The Shivalinga starts taking shape on the first day of the bright half of the month and forms fully on the full moon day and then begins to dissolve on the no moon day. There are four to five ice figures resembling various deities inside the Amarnath cave. As per the custom, the largest one is believed to be of Amarnath (Lord Shiva), one on its left of Lord Ganesha and ones on the right of Parvati and Bhairava respectively.
Legends of Amarnath
There are many legends associated with the cave of Amarnathji. One of the legends is that Lord Shiva was describing the secret of creation to Goddess Parvati in a cave in Amarnath. Without their knowledge, a pair of mating doves overheard their conversation. Having learned the secret of creation, the doves now take rebirth again and again and the same cave serves as their abode since then. Another popular legend is that, to make all the gods immortal, Lord Shiva distributed celestial nectar of immortality amongst them. This led to awarding of the name Amarnath to Lord Shiva, meaning "Lord of Immortality'".
Yet another legend is that once a Muslim Shepherd named Buta Malik was gifted a sack of coal by a sadhu. After reaching home, he opened the sack top discover that the sack contained Gold. He went back to thank the sadhu and on the spot of their rendezvous found a cave. In due course, this place became a pilgrimage destination. It is believed that, till date, a portion of the donations by pilgrims is given to his descendents. Last, but not the least is the legend that Kashyap Rishi, the grandson of Lord Brahma drained the Kashmir valley of water. After the whole valley was drained, Bregeish Rishi, who was traveling the Himalayas, discovered the Amarnath cave and lingam. Slowly, people came to know about the cave and the Shivalinga and Amarnath came to be regarded as the abode of Lord Shiva and a revered pilgrim center.