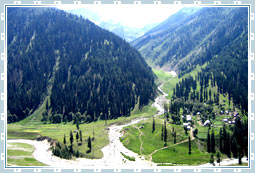 Located in the center of the Kashmir valley, the district of Srinagar towers at a height of 1,730 m above sea level. King Pravarasena-II founded the Srinagar city over 2000 years ago. The Chinese traveler Hiuen Tsang, who visited Kashmir in 631 AD, found Srinagar at the same place where it stands today. The rule of Hindu kings in Kashmir ended in 1339, with the last ruler being Laltaditya Muktapida. From 1420-1470, the valley came under the rule of King Zain-ul-Abidin, popularly known as Budshah. Some time later, Mughal Emperor Akbar annexed Srinagar and included it in his own territory. Come and explore some more fascinating aspects of Srinagar with us!
It was during the rule of Akbar only that the district got the striking mosques and gardens that it now proudly boasts of. The last one of the Muslim rulers of Srinagar was overthrown by the Sikhs, under the rule of Maharaja Ranjit Singh in the year 1819. With time, the rule of the Sikhs ended and the Dogras gained the control of Kashmir from the British under the Treaty of Amritsar. After India became independent in the year 1947, the state of Jammu and Kashmir became a part of the Indian Union, with Srinagar as its capital. Since then Srinagar has been a prominent destination on the tourist map of India.
The district of Srinagar is situated on either sides of the Jhelum River, making its locales picturesque and beautiful. The major attractions of Srinagar travel include Dal Lake and Nagin Lake. Most of the houseboats (Shikaras) in Kashmir will be seen in these lakes only. The Mughal Gardens set up by various rulers of the Mughal dynasty further enhance the beauty of Srinagar. Other major draws of Srinagar are water sports activities, handcrafted souvenirs, amazing resort nearby etc.