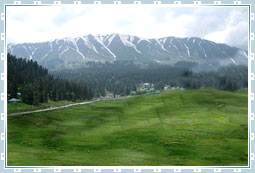 Gulmarg is one of the most splendid hill resorts in the country, falling in the Baramulla Distt of Kashmir. Initially, Gulmarg of Kashmir used to known by the name of "Gaurimarg", by the shepherds pasturing their herds. However, the present name of this hill resort dates back to the 16th century. Sultan Yusuf Shah, impressed with the stunning spectacle of the grassy hills adorned with colorful flowers, gave the name of "Gulmarg" to this beautiful hill station. Gulmarg hill station also served as the preferred rendezvous of the Mughal Emperor Jehangir. It is said that the emperor once collected 21 different varieties of flowers from here.
Gulmarg hill resort boasts of not only picturesque locales, but also of the highest golf course in the world. Situated at a height of 2,650 m, Gulmarg golf course is one of the major attractions of the awesome hill station. Along with that, Gulmarg is also quite famous as a skiing destination in winters. The drive to Gulmarg is as beautiful as the hill station itself. Alongside the road, the scenery changes from boulevard of poplar to smooth vastness of rice fields, sprinkled with some pleasing villages. The fir-covered hills characterize the ascent to Gulmarg, Kashmir. There is also a spot on the way to Gulmarg, known as "View Point", where tourist often stop to admire the breathtaking sight of snow capped mountains.
The drive to Gulmarg is filled with a number of colors, changing with the season. From the translucent green of spring to summer's rich emerald to autumn's golden hues, the scenery has something to offer in every season. The "Meadow of Flowers" counts amongst some of the best tourist spots of the world. Gul Marg tourism is famous not only for its awe-inspiring beauty, but for a number of other attractions also. You can also take a Gandola ride (cable car ride), taking the tourists up to Kongdori, to enjoy the magnificent sights of the meadow from the top. Also popular is a trek to Alpather Lake, approximately 13 km from Gulmarg. With the encircling forests of tall conifers, Gulmarg assumes an unparallel beauty. The hill resort of Gulmarg is rated as one of the unrivaled tourist spots in the world. You can also visit the famous shrine of Baba Reshi, a Muslim saint.