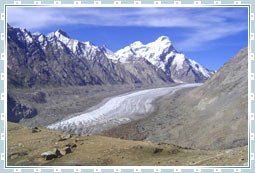 Kargil, situated at a height of 2704 m, is located approximately 204 km to the west of Srinagar. Located 234 km to the east of Leh, Kargil is the second largest city of the region and the headquarters of the district with the same name. The township of Kargil in Kashmir served, at one point of time, as an important hub for trade and transit in the Pan-Asian trade network. Convoys to and from China, Tibet, Yarkand and Kashmir regularly passed through Kargil. These convoys carried some exquisite goods consisting of silk, brocade, carpets, tea, poppy, ivory, etc. Today, Kargil serves as the perfect night stop for the tourists traveling between Srinagar and Leh. As we traverse through Kargil, you will come to know more about this wonderful and serene destination.
Kargil is encircled by the Himalayas, lying in the heart of the region. Due to this strategic location, Kargil has an enormous potential for adventure activities. In fact, it is an important start off point for the numerous adventure tours to the Himalayas, along with being the base station to the Zanskar Valley. Suru basin forms another important feature of the landscape of Kargil. The Drass and Wakha streams of Suru River meet here, providing enough water for cultivation of barley, wheat, peas and a number of other vegetables and cereals. However, the specialty of Kargil is the fine apricots grown here. As the fruit ripens, it changes the hue of the valley from serene white to flaming orange.
A popular attraction of Kargil is the archery contest held in the month of May every year. Kargil is quite well known for its delicious dry apricots and the apricot jam. For the shoppers, the town offers Pashmina shawls, local carpets and woolen handicrafts. Apart from it's scintillating landscape, Kargil has a number of other attractions to offer to the tourists. One of them is the Buddhist monastery of Mulbek Gompa, situated 45 km from Kargil. It is an architectural beauty with magnificent murals and amazing statues. Other examples of architectural brilliance in Kargil are the Trespone and Sankhoo imambaras.