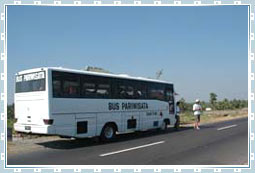 In the following paragraphs, we have provided information about the various modes of traveling/reaching to Kashmir valley of India. Traveling to Kashmir is quite easy and accessible as the valley is well connected to other parts of India with a well-developed network of roads, air and rail. Read further to know "How to reach Kashmir":
By Air
Srinagar airport is approximately 14 km from the city. There are daily flights to Srinagar, operated by Indian Airlines (from Delhi, Mumbai and Jammu) and Jet Airways (from Delhi and Jammu).
By Rail
Jammu Tawi, approximately 305 km far, is the nearest railhead for Srinagar. Trains from Delhi, Calcutta, Pune, Mumbai and other cities arrive at this station only. During holiday season, when there is a heavy rush for Kashmir, additional trains operate for and from this station.
By Road
National Highway 1-A is the main highway connecting Srinagar with Jammu. J&K State Road Transport Corporation (SRTC) as well as a number of private Super deluxe, A-class and B-class busses operate to and from the state. Private taxis are also available for traveling to Kashmir.