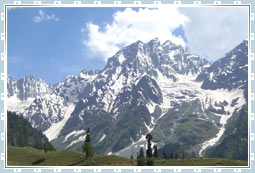 Sonamarg, also known as the "Golden Meadow", is situated at a height of 2740 m. The drive to this beautiful meadow is also as spectacular as the place itself. Driving through the Sindhu valley, you get to see another aspect of Kashmir. Encircled by snow-covered mountains, Sonamarg is a place of enchanting beauty. Surrounded by dense forests, full of sycamore and alpine flowers, silver birch, fir and pine, the meadow presents a captivating sight. The charm of Sonamarg hill station is further enhanced with the snow capped mountains as the backdrop and the Sindh River meandering through it.
The Nichnai Pass, near Sonamarg, offers a spectacular view of three lakes, Kishensar, Vishensar and Gangabal. These rivers also consist of some of the famous trekking destinations from Sonamarg. Then, there is the Zojila Pass, 20 km east of Sonamarg, standing at a height of 3540 m and leading into the Ladakh Plateau. Sonamarg hill station, also known as the "Gateway to Ladakh", is the take off station for the drive to Ladakh. A major attraction of Sonamarg is the Thajiwas range. Covered with pine, fir, and birch trees, the range provides a number of sites for camping. A number of waterfalls and the fascinating Thajiwas glacier are other attractions of this range.
Sonamarg serves as another base for undertaking the holy yatra of the Amarnath cave. The yatra is organized every year during the month of July-August. In Sonamarg, you will get to try many adventurous sports as well.
Trekking to Thajiwas Glacier, Pahalgam, etc
Sledging (at frozen glaciers)
Angling (license required)
Long walks in the jungles
Alpine Skiing
White Water Rafting