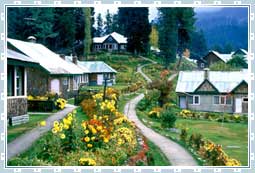 Kashmir is one of the most preferred tourist destinations in India. Every year, the Kashmir valley sees a large influx of tourists, domestic as well as foreign. As Kashmir has been a popular destination on the tourist map of India for a long time, finding accommodations is no big problem at any popular destination. You will get all types of accommodation facilities almost at every location. A number of hotels as well as houseboats count amongst the main places to stay in Kashmir. Other than that, there are also a number of guesthouses in the valley that provide cheap accommodation.
Houseboats
Houseboats (known as Shikaras locally) in Srinagar offer the tourists a unique experience. The luxury of staying on the serene water of a lake in a graceful boat, with all the services of a luxury hotel, draws many tourists to Srinagar. Most of the houseboats anchor along the banks of Dal Lake and Nagin Lake only. Just like hotels, the houseboats of Kashmir are also categorized. There are Deluxe, A-class, B-class, C-class and D-class houseboats in Srinagar.
Hotels
There are numerous hotels in Srinagar, located around the Dal Lake. Offering a comfortable stay to the tourists, these hotels provide breathtaking sights of the beautiful locales of Kashmir. There are numerous A-class, B-class and C-class hotels in Kashmir, each serving to the needs of a particular class of people. Some of the leading A-class hotels of Kashmir are:
Ahdoo's Hotel, Residency Road
Akbar Hotel, Kohankhan Dalgate
Broadway Hotel, M.A.Road
Centaur Lake View, Chashmashahi
Grand Palace Hotel, Palace Road
Imperial Lake View, Nehru Park
Lake Isle Hotel, Nagin Lake
Madhuban Hotel, Old Gagribal
Parimahal Hotel, Boulevard
Ruby Hotel, Lambert Line
Guest Houses
In case you are looking for cheap accommodation, you will get numerous cheap and budget guesthouses not only in Srinagar but also other popular destinations in Kashmir valley.