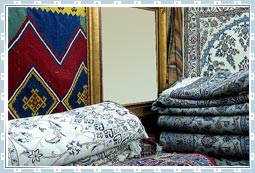 Shopping in Kashmir is a truly an overwhelming and delightful experience. A shopper's paradise, Kashmir offers numerous shopping attractions to its visitors. The amazing handicrafts of the valley of Kashmir truly match its scenic beauty. A tour to Kashmir will leave you mesmerized not only with the beauty of the state, but also with its remarkable arts and crafts. A reflection of the colorful life of the Kashmiris, Kashmiri handicrafts are usually made by the women folk of the family.
Before you set out on the trip to Kashmir, is it advisable that you get to know the local handicrafts and other shopping items of Kashmir. This Kashmir shopping guide will help you further to explore the popular shopping items and shopping destinations of the Kashmir valley.
Kashmiri handicrafts are known for their uniqueness and work far and wide. Some of the handicraft items of Kashmir have even earned global recognition. The Pashmina shawls of Kashmir are one of such handicraft items that are famous throughout the world. Have a look at some of the main shopping attractions of Jammu and Kashmir include Carpets, Papier-mache, Shawls, Silk and Tweeds, Woodwork, Pherans, Brass, Copper and Silverware,Wall hangings with naqqashi work, Chain Stitch Embroidery, Saris Cricket Bats, Wicker baskets, Crewel Furnishings, Namdas etc.
Carpets
The handmade carpets of Kashmir are famous throughout the world. Though quite expensive, Kashmiri carpets are a worthwhile lifelong investment. Apart from being always handmade, another quality of Kashmir carpets is that they are always knotted, never tufted.
Papier-mache
The papier-mâché of Kashmir is a popular handicraft item. Even though all the paper-maches of Kashmir look similar at first glance, they command different prices. The price depends upon the type and the quality of the product.
Shawls
The Kashmir valley is known for its shawls throughout the world. Kashmir shawls are mainly of three types- wool, pashmina and shahtoosh. They differ on the basis of the fabric used to make them. Simultaneously, all these shawls differ to a great extent in their prices also.
Silk and Tweeds
Kashmir silk and tweed are some of the items that are invariably high on the shopping list of all those coming to the Kashmir valley. Infact, sericulture and tweed weaving counts amongst the important occupations of the Kashmiris.
Woodwork
The wooden carvings of Kashmir are quite popular throughout the country. The exquisite woodcarvings are proof of the skill and talent of the traditional craftsmen of Kashmir.
The shopping places in Kashmir consist of privately owned as well as the government emporia. If you are visiting private shops then a little bit of bargain is advisable otherwise the Government Emporiums are a safe bait.
Lal Chowk
Badshah Chowk
Polo View