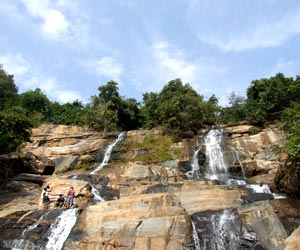 Location:
Purulia district, West Bengal
Altitude:
700 m
Kolkata offers you lots of excursion opportunities. Not only does it offer you a journey to exotic beaches in the nearby areas, but also presents you some wonderful raw hills to explore. One of the most beautiful excursions near Kolkata is the Ajodhya Hills, which fall under the Purulia district of West Bengal. Located at an altitude of approximately 700 m above the sea level, at the Bihar-Purulia border, Ajodhya Hills is one place where you will feel rejuvenated and refreshed, away from the humidity of Kolkata, in summers.
Actually a part of the Dolma Hill Range, the place Ajodhya Hills a special delight for nature lovers and young mountaineers. The dense forests and gurgling waterfalls of the place make it a natural delight. You will be astonished to see the forest full of elephants, deer, wild boars, wolves and cheetahs, from so close. Even the dense trees of pine, shimul, saal, shirish and segun trees will make you feel delighted. The young mountaineers will get an opportunity to reign over raw peaks like Gorga-buru.
Ajodhya Hills, apart from its travel and trekking expeditions, is also known for its mythological links. It is said that Lord Rama and his wife Goddess Sita had once visited the place and stayed here for some time. One day, Sita was feeling thirsty; Lord Ram pierced an arrow into the earth, at this very place only, to spurt a fountain and satisfy her longing for water. The spot is, thus, named Sita-kunda i.e. the water-reservoir of Sita. Thousands of people come here every year, to visit this mystic spot.
In case, you want to visit Ajodhya Hills, you can opt between two routes from Kolkata - one is via Jhalda and the other will take you there through Sirkabad. Residing there will also not be a big issue if you do a prior booking in the Forest Rest House here. Once you have reached Ajodhya Hills, a trip to Turga Dam and Lake and the pleasant waterfall formed by the River Bamni is worthwhile. You can also give a small visit to the hydel power plant at this place, if you are interested in technology.