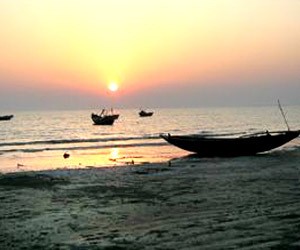 Location:
3 hours drive from Kolkata
Highlights:
One of the most beautiful beaches in eastern India
Kolkata provides you with excellent options of excursions. There are so many beautiful places situated nearby that it will really be difficult for you, as a tourist, to choose between these options. However, one of them that you should certainly not miss is the Frazerganj Beach. Approximately 3 hours drive from Kolkata; it is one of the most beautiful beaches in eastern India. It is one place where you can go for a silent and serene holiday on some lazy weekend.
Popularly known for its whitish silver sand, this is a beautiful and pristine beach with lots of tranquility and harmony in its atmosphere. Not much exploited, it is still spotless and holds the charms of an unspoilt arena of joy and exquisiteness. Located at one end of Sunderbans, this beach was actually discovered by then Lt-Governor of Bengal Andrew Frazer, who also built a bungalow at Narayanitala, now rechristened as 'Frazerganj' after its founder.
Apart from being known for its exquisite beauty, Frazerganj Beach is also known for being the seasonal choice of umpteen exotic and migratory birds. The place is also a major center of Pisciculture in the country. In a radius of 5 km from Frazerganj, there are so many other beautiful places, like Bakkhali, Windmills, Jambudeep and temple of Banabibi that you will not be bored here at all.
There are lots of hotel at this beach, so staying here would not be an issue. Even reaching Frazerganj is not a difficult task. Direct buses between Esplanade and Bakkhali are available and Frazerganj is accessible from Bakkhali through a cycle-van. One can also hire a car from Kolkata that takes directly to Frazerganj. The best time to visit the place is between July and March.